Profits from Unfinished Business Belong to Dissolved Law Firm, NY Judge Says
Jennifer Smith at the WSJ Law Blog reports that A U.S. district court ruling on who can claim profits from a defunct law firm's unfinished cases could mean trouble for firms who take on partners from the ailing New York firm Dewey & LeBoeuf LLP:
At issue is the so-called "unfinished business" claim, which bankruptcy trustees in charge of failed firms such as Brobeck, Phleger & Harrison LLP and Heller Ehrman LLP have used in California and elsewhere to recover millions of dollars from the new law firms where former partners end up. The argument is essentially this: when partners who leave a dissolved firm bring unresolved cases to their new firms, the money those matters then generate belongs to the original firm.
In this case, the trustee for former New York firm Coudert Brothers LLP had sued 10 firms that hired former Coudert partners in an effort to recover those profits. No dollar amount was specified, as the firms did not provide documents outlining how much money they made.
The defendants, which included Dechert LLP, Jones Day and Arent Fox LLP, argued that Coudert Brothers had no property interest in the unfinished matters.
On Thursday a federal judge in Manhattan ruled that that the proceeds from those cases did indeed belong to Coudert Brothers, whose estate is being administered by the restructuring and financial advisory firm Development Specialists Inc.
"Because the Client Matters belonged to Coudert on the Dissolution Date, and because the Coudert Partnership calls for the application of the Partnership Law to determine the post-dissolution rights of the partners, the Former Coudert Partners have a duty to account for profits they earned completing the Client Matters at the Firms," according to the decision by District Judge Colleen McMahon.
Generally, the only way to avoid such claims would be if a law firm had inserted a specific waiver into its partnership agreement before it became insolvent, said Peter Gilhuly, a bankruptcy partner with Latham & Watkins LLP.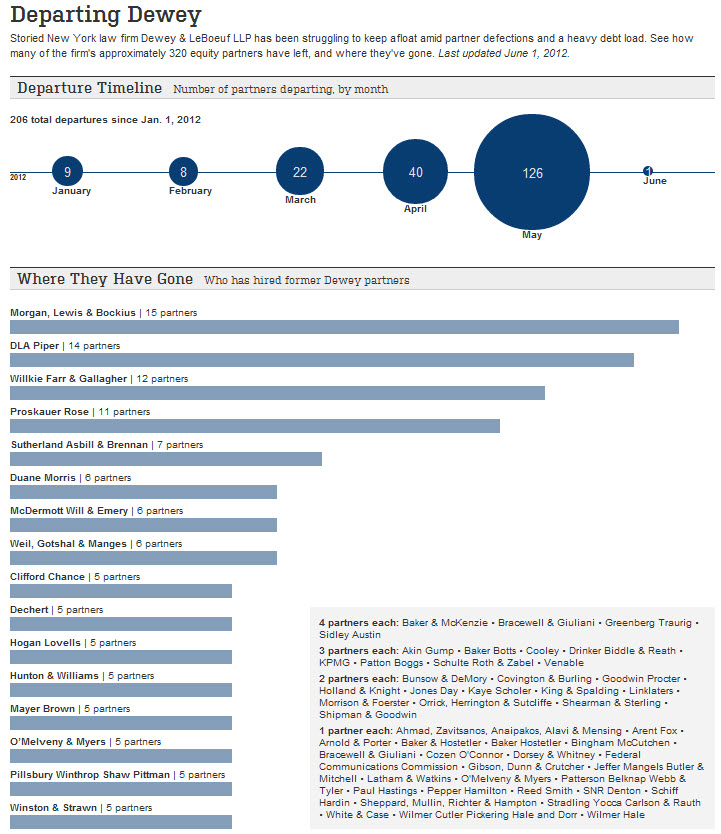 The Wall Street Journal's Law Blog has a definitive report on who's left and where they've gone to.
Related posts