Has Governmental Anti-Kickback Statute Enforcement Kicked Back Royalty Rates?
Royalty Rates in the Life Sciences are Under Increased Scrutiny. But Has That Caused Rates to Decline?
Several medical manufacturers were accused of violating federal kickback statutes. Federal enforcement prompted many companies in the industry to review and revise the terms under which they collaborate with and pay healthcare professionals for contributions of time, know-how, and intellectual property. Ed Gold and the Invotex team examine how this has affected royalty rates.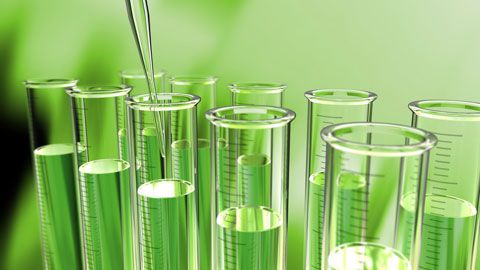 The federal anti-kickback statute originated in Social Security legislation in 1972.1 As currently written, 42 U.S.C. § 1320a-7b prohibits the exchange of anything of value to induce referral of federal healthcare program business. It establishes penalties for both recipients and payers of the inducements and applies to both individuals and entities.
In September 2007, the government accused four hip and knee surgical implant manufacturers of violating the federal anti-kickback statute: Zimmer, Inc.; Depuy Orthopaedics, Inc.; Biomet, Inc.; and Smith & Nephew, Inc.2 All four companies entered into Deferred Prosecution Agreements (DPAs), which required compliance with certain terms, and they were placed under the purview of a monitor.  A fifth company, Stryker Orthopedics, Inc., cooperated with the investigation and entered into a non-prosecution agreement (NPA) with the same requirements. 
All five companies successfully emerged from their DPAs and NPA in March 2009.  Under the terms of the agreements with the Department of Justice, the companies were required to publicly disclose all payments made to doctors. This article explores how, if at all, these and other government investigations into related violations of the anti-kickback laws have changed the industry's approach to making payments to surgeons and the related impact on payments or royalty rates.
A detailed analysis prepared for the American Medical Association and published in the Archives of Internal Medicine in October 2011 studied the payments made to orthopedic surgeons from 2007 to 2010 by the five companies highlighted above. After removing some large, one-time payments to buy out doctors from certain contracts, the average payment received by surgeons was approximately $190,000 in 2007 and $210,000 in 2008. 
Surprisingly, however, in 2009 and 2010, the average payment (among the three firms for which data was available) was approximately $245,000 and $235,000, respectively. (The 2007 and 2008 average payments for the same three firms were consistent with the lower averages stated above for all five firms.)
"The market data analyzed by Invotex generally shows median and average rates around 5% to 6% in recent years."
The article explained that the increase was due to a disproportionate decline in the number of smaller dollar-value payments.3
The federal enforcement actions affected the entire medical device industry. As part of this effort, many of the companies in the industry reviewed and revised the terms under which they collaborated with and paid healthcare professionals (HCPs) for contributions of time, know-how, and/or intellectual property.
We analyzed royalty rates in the industry to learn whether the royalty rates paid to HCPs have decreased following the enforcement actions. 
From a pool of 122 license transactions that were entered into between 2006 and 2011,4 we retained 97 agreements for our final study. The overall median and average royalty rates for this period were 5.0% and 5.4%, respectively. Â However, almost 65% of the transactions analyzed also included other forms of consideration (i.e. upfront fees, milestone payments, maintenance fees, stock-based compensation, etc.) going to the licensor.
In addition, some of the transactions also included a mix of other licensing terms that can affect the agreed-upon royalty rate, such as whether the technology is licensed exclusively or non-exclusively, whether know-how is licensed in addition to patents or patent applications, whether there are grant backs, cross licenses or other non-monetary consideration flowing back to the licensor, etc. 
Approximately 11% of the transactions analyzed include HCPs as the licensor. The remaining agreements are between companies that may or may not be competitors, another factor that may ultimately impact the rate paid. 
Due to the wide variations in licensing arrangements, it should be noted that the results discussed here can not be construed to represent all medical/health licenses. Â Our analysis includes only a subset of licenses available in the public domain and, while useful for trend analysis, might not be directly comparable to individual licensing arrangements, which should consider situation-specific facts. Â Analysis of the technology, the relationships between the parties, and other factors may result in either a higher or lower rate than the average and median discussed herein.
In Table 1 below, we present the median and average royalty rates of the 97 licenses computed by year. The average rate has slightly increased over time, while the median rates have remained the same.

Table 2 below depicts the royalty rates from this data set at various percentile points after grouping the licenses into two time categories: 2006 to 2008 and 2009 to 2011. We can see that generally the rates are the same or greater in the 2009 to 2011 period by percentile and almost always increase among the higher percentiles.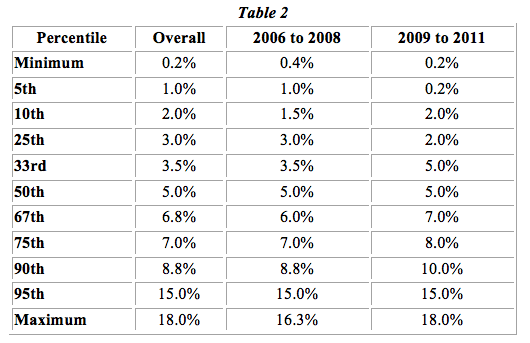 The market data analyzed by Invotex generally shows median and average rates around 5% to 6% in recent years. The percentile analysis indicates that royalty rates are trending higher and highlights the wide range of IP licensing rates in the industry. Â Ultimately, this analysis illustrates that increased regulatory attention in recent years has not caused industry royalty rates to decline.
---
By Edward A. Gold, Lynton L. Markham, and Julie A. Neal. Â Edward A. Gold, a Managing Director of Invotex, provides liability and damages analysis in complex commercial disputes involving intellectual property, antitrust, breach of contract and discrimination issues. Dr. Gold has nearly 20 years of economic consulting experience and has been designated as an expert in matters pending in federal and state courts, the ITC, and arbitration proceedings. He has extensive experience valuing intellectual property assets, advising on transaction strategies, and directly participating in negotiations in the context of licensing, sale, and joint venture. He can be reached at (202)370-2407 or egold@invotex.com.
Invotex is a national accounting, financial and economic consulting firm servicing Fortune 500- companies, major law firms, leading research universities and local, state and federal governments and agencies. With offices in Baltimore, MD, Washington, DC, and Philadelphia, PA, the firm's highly credentialed experts and professional staff conduct economic and financial analyses to provide objective opinions and advice in matters involving complex transactions, disputes, investigations, reorganizations, insurance, and valuations. Invotex also offers advisory services for intellectual property owners, including licensing, technology evaluation and license compliance, asset management and enforcement of IP rights. 
---
1http://www.healthlawyers.org/hlresources/Health%20Law%20Wiki/Anti-Kickback%20Statute.aspx
2http://www.fbi.gov/newark/press-releases/2009/nk033009a.htm/
3Hockenberry, Weigel, Auerbach and Cram, "Financial Payments by Orthopedic Device Makers to Orthopedic Surgeons," Archives of Internal Medicine, October 24, 2011, p. 1761.
Related posts