Preparing for Deposition or Courtroom Testimony
Anticipating questions allows us to think through the best ways to phrase our responses
Questions about an expert's skills and work can be phrased in ways that make it difficult to answer accurately on the spot, but advance preparation can smooth the process.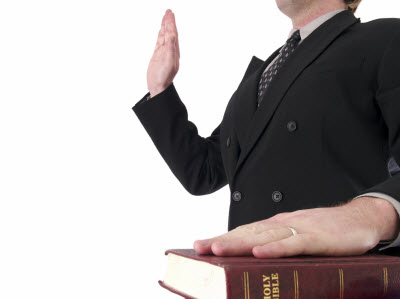 Whether you are testifying in a deposition or a courtroom, you will be asked many specific questions. Since you will be under oath, you must answer each question honestly. Because you cannot edit your answers later, you must answer accurately the first time. Therefore, it is best to anticipate questions that are likely to be asked and think through your responses before being on the hot seat.
Listed below are examples of questions that have been asked of me in depositions and during court testimony. You may find it helpful to carefully contemplate these types of questions when preparing for testimony.
For presentation purposes, I have posed the following questions as if they are being asked of someone who prepared a business valuation report for a company in the publishing industry.
Many questions may appear to be easy and straightforward. Still, these questions can really be hard to answer:
Are you an "expert" in business valuation? If yes, how can you be sure?
Are you an "expert" with respect to the publishing industry?
What prior experience do you have with the publishing industry?
What formal training have you had in the valuation methodologies used in your analyses?
Which periodicals do you read to keep current in your field?
To which professional organizations do you belong? Are you actively involved?
Are you familiar with the ethical and professional standards of those organizations?
Did you adhere to the ethical and professional standards of each of those organizations when completing your analyses and report?
Why do you charge so much for your services? Why do you not charge more?
What portion of the analyses in the report did you actually prepare yourself?
How do you know your benchmarking data is reliable?
In prior cases, have you most often worked for the plaintiff or the defendant?
Are you a friend of the attorney who engaged you?
Did the hiring attorney or an associate tell you what to say in your report? Did they ask you what to say, emphasize, or not say or not emphasize in your testimony?
What information were you given?
Were you given enough information/facts to form an appropriate opinion? If yes, how can you be sure?
What did you do to verify the information you were provided?
Were you given enough time to complete your analyses and form an appropriate opinion?
Do you know of any errors in your analyses or report?
Always keep in mind that some questions are designed to be difficult to answer. Perhaps an appropriate response may be:
"I don't think a simple 'yes' or a simple 'no' would be a complete and accurate answer."
"I can't give an unqualified 'yes' to that because your words would then become mine."
"This type of testimony certainly comes with its challenges, but the satisfaction of a job well done lasts a long time."
Remember that testimony is different from a conversation. For example, in conversations with clients, we do not like to keep saying, "I don't know." We are concerned that such an answer may cause us to appear to be poorly prepared. During cross examination, many questions are asked because the attorneys know that we cannot have the answers. Having to say that we don't know dozens of times in one deposition may make us feel awkward, but it is much better than speculating or telling more than we really know.
I find it to be extremely helpful to avoid casual language during testimony. In talking with friends, I might casually say, "Everyone enjoyed the party," although, that may not really be an accurate statement.
I also like to hesitate briefly before answering each question. This is done on purpose. By pausing, it gives me time to think about my response, and it gives the other attorney a chance to object to the question before I answer it.
When I'm not sure that I understand a question, I ask for it to be repeated or rephrased, perhaps multiple times.
I am especially careful when asked to speak on behalf of another person, such as "Why did the business owner…?"
I have also had attorneys cleverly rephrase my statements when repeating them back to me. For example, if I said that I do not remember seeing a certain memo, the questioner may later begin a long statement with, "Your testimony was that you have never seen this memo…" There is a difference.
During cross examination in courtrooms, some attorneys have been animated and used facial gestures in hopes of distracting or discouraging me. In those situations, I have found it helpful to look toward the back of the courtroom, rather than looking directly at the attorneys.
This type of testimony certainly comes with its challenges, but the satisfaction of a job well done lasts a long time.
This article is intended to encourage thoughtful discussion and is not intended to be legal advice. I am simply sharing my experiences to help you anticipate questions that you may be asked so you are better prepared to answer them accurately when the time comes. Please be sure to get good counsel from an attorney prior to any testimony.
Stephen D. Kirkland, CPA, CMC, CFC, CFF, is a compensation consultant with Atlantic Executive Consulting Group, LLC. He serves as an expert witness in U.S. Tax Court and other courts with issues involving potentially unreasonable compensation. He can be reached at (803) 477-5973 or through www.reasonablecomp.biz.
Related posts