Demand for Primary Care Physicians Outpaces Supply
Compensation for PCPs is increasing
The increasing supply shortage of primary care physicians (PCPs) will have a significant impact on physician compensation. In turn; this will have an equally powerful effect on the valuation of PCP practices.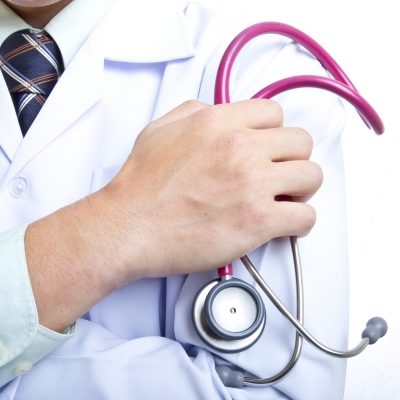 The U.S. is facing a significant supply shortage of primary care physicians (PCPs). According to a November 2013 study by the U.S. Department of Health and Human Services (HHS), the demand for PCPs will outpace the supply by approximately 20,400 physicians sometime between 2010 and 2020.1 Several factors influencing demand for PCPs include the aging baby boomer generation and provisions of the Affordable Care Act (ACA). Also contributing to the shortage is the fact that the number of available residency positions are not keeping pace with the number of medical school graduates, thereby limiting the pool of credentialed physicians. As a result of the PCP shortage, compensation for PCPs is increasing markedly, and we anticipate this trend will continue.
Baby Boomers
In 2011, the first of the baby boomers, those born between the years 1946 and 1964, turned 65. Representing an estimated 26 percent of the U.S. population2, the baby boomers have a tremendous influence on social, economic, and cultural trends on a national level. Their demands for medical services are no different. As the baby boom generation enters the golden years, servicing their medical needs will place a tremendous burden on the nation's health system. Projections by the Administration On Aging suggest the population of those aged 65 and over will increase 36 percent between 2010 and 2020.3 Alarmingly, the nation's supply of doctors does not meet this demand now, and given current trends, the gap will widen even further.
ACA
ACA was enacted by President Barack Obama in 2010 as a means to expand access to healthcare for all Americans while controlling its escalating costs. Several provisions within the ACA increase the demand for PCP services, as well as the attractiveness of PCP practices to acquisition by hospitals, such as
Individual Insurance Mandate. Starting in 2014, Americans are required to purchase insurance coverage, or face penalties from the federal government. As a result of this mandate, millions of previously uninsured patients will be added to the healthcare system. This will significantly increase the need for physician services, including PCPs.
Primary Care Incentive Payment Program. Under this program, primary care physicians who meet the eligibility requirements will receive an annual 10 percent bonus through 2015, in addition to regular Medicare fee schedule payments for certain primary care services. To qualify, a PCP must derive at least 60 percent of his or her Medicare-allowable charges from bonus-eligible current procedural terminology (CPT) codes (primarily office and outpatient visit codes). The Centers for Medicare and Medicaid Services (CMS) will pay this bonus at the end of each quarter for those years in which a physician qualifies for the program.
Increased Medicaid Rates. The ACA provides additional incentives for primary care providers that accept Medicaid patients. For 2013 and 2014, the reimbursement for Medicaid patients will be equal to 100 percent of the Medicare reimbursement rates. As Medicaid rates are typically lower than Medicare's, this can be a significant increase in reimbursement for many providers. With more Medicaid patients potentially seeking treatment, there will be a greater need for PCPs who provide these medical services.
Shared Savings Program. The Accountable Care Organization (ACO) designation was created to incentivize healthcare organizations to deliver higher quality and more cost-effective healthcare. ACO-designated healthcare organizations receive a number of benefits related to their participation in the Medicare program. An ACO that meets certain quality standards and maintains expenditures below benchmark levels set by CMS will be eligible to share in the savings it generates. One of the requirements for ACO designation is having a sufficient number of primary care providers and assigned beneficiaries (at least 5,000 covered lives in the ACO). As a result of this program, primary care physicians will be key players in the formation of ACOs and in their ultimate success.
The increased demand and reimbursement for PCPs resulting from these provisions make PCP practices more attractive for acquisition by hospitals. As hospitals seek to become more clinically integrated and coordinate care for patients, they are increasingly targeting PCPs for employment or other alignment options. According to the Merritt Hawkins' 2013 Review of Physician and Advanced Practitioner Recruiting Incentives, family physicians and general internists were the top two most requested physician search assignments for healthcare organizations, marking the seventh consecutive year that these two PCP types were the top search requests.
Physician Shortages
"The increased demand and reimbursement for PCPs resulting from these provisions make PCP practices more attractive for acquisition by hospitals."
Given the confluence of accelerated demand and flat medical school enrollments between 1980 and 2005, the American Association of Medical Colleges (AAMC) called for a 30 percent increase in medical school enrollment to address the impending physician shortage. As a result, medical school enrollments have since increased by 21 percent compared to 2002, with record numbers of students enrolled in medical schools in 2013, according to AAMC.4
However, an outdated budget cap on Medicare support for graduate medical education means there has not been a meaningful increase in residency positions since 1997. Residency is a required component of physician education and is necessary for physicians to practice independently. The 2013 Main Residency Match published by the National Resident Matching Program reports that a record 40,335 people worldwide applied to 29,171 residency positions, while the number of U.S. medical school seniors without a residency position doubled from 262 in 2012 to 528 in 2013.5 According to AAMC, despite efforts to address the shortage, the country will see a deficiency of 62,900 physicians in just two years.6
Finally, within the field of primary care, HHS has currently designated 5,800 health profession shortage areas (HPSAs) within the United States. HHS defines a HPSA as an area with population-to-physician ratio of 3,500 or more. The Health Resources and Services Administration states that it would take an estimated 7,500 PCPs to fill this shortage.
Expanding Compensation for PCPs
A basic tenet of economics is that prices rise when demand outpaces supply. The PCP market, despite the regulatory burdens placed on them, is no different. As a result of accelerating demand and the limited supply of PCPs, compensation for PCPs has increased markedly in recent years as indicated in Figure I. Given current trends in the supply and demand for primary care medical services, we anticipate this trend will continue.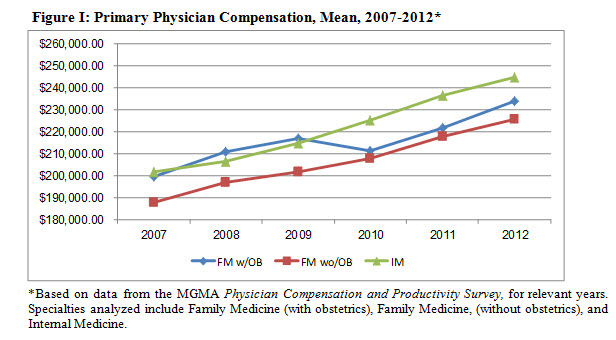 Conclusion
The dearth of PCPs represents an unprecedented challenge in meeting the future healthcare needs of the U.S. Numerous provisions of the ACA, including the Individual Insurance Mandate and ACOs, will potentially be significant drivers of demand for PCPs. Basic economic principles of supply and demand suggest a trend of expanding compensation for PCPs in the years ahead. Recent data has already shown an increase in PCP compensation levels, and we expect this trend to continue in the coming years.
Robert Mundy, CPA/ABV, CVA, has an extensive background in business valuation with experience in healthcare valuation engagements that involve mergers and acquisitions, financial reporting, joint ventures, divestitures, partnership transactions, leasing arrangements, and divorce settlements. Mr. Mundy co-authored "The Valuation of Hospitals" chapter in Business Valuation Resources' Guide to Healthcare Valuation. Mr. Mundy can be reached at rmundi@pyapc.com.
1US Department of Health and Human Services, "Predicting the Supply and Demand for Primary Care Practitioners Through 2020," Health Resources and Services Administration, November 2013.
2US Census Bureau, "Age and Sex Composition:2010, 2010 Census Briefs," , May 2011.
3Administration On Aging, "Projected Future Growth of the Aging Population," Department of Health and Human Services, http://www.aoa.gov/AoARoot/Aging_Statistics/future_growth/future_growth.aspx.
42013 U.S. Medical School Applicant and Enrollment Data and Addressing Physician Shortages, American Association of Medical Colleges
5<http://www.ama-assn.org/ams/pub/meded/2013-april/2013-april.shtml>
6Ibid
Related posts