More Firms are Outsourcing their Marketing
Should You?
In this article, Dr. Frederiksen discusses why firms are outsourcing and answers five questions regarding when it makes sense to outsource this service.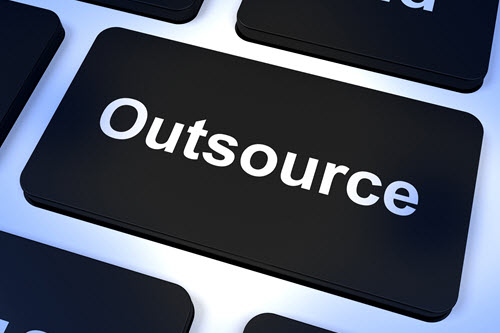 [su_pullquote align="right"]Resources:
Marketing Techniques to Gain Referrals
Implementing Your Marketing Strategy
Gaining an Advantage in a Changing Marketplace
[/su_pullquote]
Whether or not to outsource is a continuing question for professional services firms, especially when it comes to the marketing function.
Why the focus on marketing? Â Because the practice of marketing professional services is evolving rapidly, and many firms are finding it difficult, even impossible, to keep up.
The skills needed to market a firm have become increasingly complex and challenging.  Many of these skills are driven by technology—think search engine optimization (SEO) and marketing automation, to name only two.  As a result, a great deal of expertise and focus is needed merely to keep up with the pace of changes.
It is small wonder, then, that many firms are deciding to rely on outside marketing firms to fill in the gaps in their marketing abilities, or even take over the wheel.  As a matter of fact, our research has shown that firms today spend roughly three times more on outsourcing than they did only two years ago.
Five Ways Outsourced Marketing Makes Sense
Why do professional services firms outsource their marketing activities?  The reasons are actually rooted in the changing nature of professional services marketing.  Here are five compelling benefits:
At most professional services firms, marketing is not a core function. These firms tend to be run by accountants, attorneys, or other professionals—not marketers.  The firms' leaders are often unfamiliar with the most recent marketing trends, and most do not have the time to become an expert in yet another specialty.
To be effective, content marketing requires a diverse and expanding skill set. In the old days, firms could rely on homegrown talent to handle marketing.  But today's marketing requires specialized technical expertise—such as SEO, landing page design, website analytics, persuasive writing, and marketing automation—and the list goes on.
It is less expensive. While outsourcing costs might seem high at first, they can actually be quite cost effective.  The firm benefits from a diverse, high quality set of skills without the need to hire, train, and supervise.  You only pay for the specialists you need, when you need them—and they are also likely to produce better outcomes.
You keep your resources focused. When firms rely on their most valuable people to write thought-leadership content or do networking, those demands eat into billable hours.  Outsourced marketing is changing the balance.  An expert can provide enough information in an hour-long interview with a ghostwriter to fuel a month's worth of content.  An outreach specialist can help spread that information far and wide across the internet, serving as a virtual networking push.  Oftentimes, not only are hours saved, but improved marketing results are also achieved.
You get a single point of accountability. One of the huge benefits of outsourced content marketing is that results are trackable.  Analytics and marketing automation tools let you monitor results easily and accurately.  In short, your outsourced marketing partner is directly accountable for results.
To Outsource or Not to Outsource?
Most firms already outsource at least a few marketing tasks—whether it is graphic design, writing, or another function.
More broadly, increasing numbers of firms are moving away from maintaining staff to perform non-core functions, allowing them to instead focus on the things they do best.  As you review your marketing program, look at each marketing activity and ask yourself these questions:
Is this function central to what we do?
Are we able to find and manage the marketing talent we need?
Does this function have a steep learning curve, and if so, can we afford it?
Does the responsibility for managing this function feel natural?
Can we afford the fixed overhead related to this activity?
If you can answer yes to all five questions about a marketing activity, then it should probably remain in-house.
However, even a single "no" response should put a function in the "maybe outsource" category, in which case you should seriously consider whether it is a good fit for your team's talent and time.  If a specialist could do it better, is the extra quality (and reduced headache) worth the cost?  Looking at it from another angle, what could your staff members who are currently performing the function do with their freed-up time?
Of course, if you answer with multiple "no's" for any function, then that is a good candidate for outsourcing—ideally, yesterday.
Now it is Your Call
You may have a natural reluctance to changing how your firm markets itself.  Still, it is worth taking a long look at your various marketing functions to determine which, if any, could more effectively be outsourced.  I suggest that in many cases, you will not only reduce your headaches, but also be able to focus more directly on the type of billable work that only you and your staff can do.  Hinge's Marketing Planning Guide offers useful insights into how you can improve and streamline your firm's marketing.
Lee W. Frederiksen, PhD, is Managing Partner at Hinge, the leading branding and marketing firm for the professional services. Hinge conducts groundbreaking research into high-growth firms and offers a complete suite of services for firms that want to become more visible and grow.
Dr. Frederiksen can be contacted at (703) 391-8870 or by e-mail to LFrederiksen@hingemarketing.com.

Related posts