Five Tips
For Finding Guest Blogging Opportunities
Have you considered an article you have written on another website, posting a guest blog? What are the benefits? How hard is it to get or become a guest blogger? In this article, the author discusses the opportunities of posting a guest blog.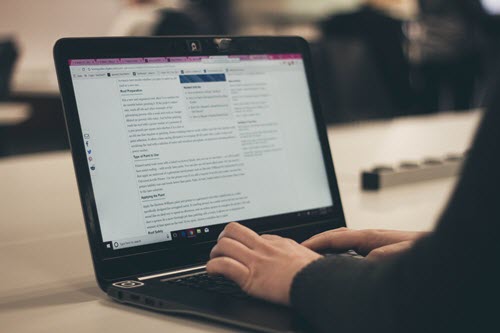 [su_pullquote align="right"]Resources:
Get Published in QuickRead
[/su_pullquote]
Have you ever considered writing a guest blog to reach new audiences? If you already post blogs on your own site, guest blogging may be much easier than you would think. More importantly, doing so is also a great way to expand your audience, promote your thought leadership, and strengthen your own website's authority.
You probably already know how sharing high-quality blog content boosts your visibility and domain authority with search engines. Having your content appear elsewhere (with a link back to your own site, of course) can amplify both of these benefits.
Remember, your content tells the world who you are and what you are known for—so adding guest blogs can be another tool in your toolkit, providing you with several strategic benefits. More marketing tips like these can be found in Hinge's How-To Guides from Hinge University, our online learning platform.
1. Start Googling
If you are unsure about which websites might welcome your blog posts, that is understandable. The best way to start is by Googling for terms similar to what you have been writing about. Also, try adding "guest blog" to your search terms; doing so can often lead you to lists of the top blogs in your industry.
Another smart strategy is to see what your peers and competitors are sharing on Twitter, LinkedIn, and any relevant LinkedIn groups. Your goal is to locate the sites that your target audience reads. Check out the sites for yourself—and if they are reputable, active on social media, and relevant with your audience, put them on your list.
2. Create a Short List of Blogging Outlets
You will probably find that many sites do not specifically invite guest bloggers. So, look around their site to see if they have newsletters, publications, or other forums where you could contribute your content. Remember, it never hurts to ask! You may be surprised how open the editors of blogsites are to receive educational content from new sources.
At some point, you may feel like you have run out of "good" blogsites to post on—or you could get discouraged by weak responses to your posts. If either situation happens, broaden your search to other niches or influencers who might find your content useful. For example, if you typically write about budgeting issues only on budgeting-related blogs, you could start targeting C-level blogsites that cover budgeting as just part of a broader list of topics.
3. Check Out the Competition
Keep an eye on your competitors and industry peers whose clients are most similar to yours. Where do they post guest blogs? Typically, you should be able to find a nice trail of "breadcrumbs" leading you to new opportunities.
You can also get some quick intel by searching for the names and blog posts of your competitors' leadership, and even set up Google Alerts to let you know whenever they publish something new.
4. Find Blogging Partners
Once you have posted a few guest blogs, start looking for more partnering opportunities. Examples include sites that were especially good fits for your content, individuals you would like to connect with again, or specific blogs that generated great traffic back to your website. To nurture a partnership with a particular outlet, here are a few tactics that could help:
Thank them (again) and offer to write another.
Ask if they would let you become a recurring guest author.
Offer them the opportunity to share a guest post on your own blog.
Follow them on social media and promote their content to build goodwill.
Your content's quality will be the single greatest factor in an outlet's decision. The stronger your content and the more traffic it drives to partners' sites, the better your chances of a successful partnership.
Even if you cannot get a partnership going, you might still make new connections that could help you down the road. If you feel there is potential, reach out, and stay in touch!
5. Follow What is Trending
Remember, you are essentially competing for guest blog spots. So, make your posts more appealing to editors by writing on the most popular, newsworthy topics that will attract readers. Editors will be especially motivated to consider your post if it is about a trending topic.
For example, if you know of a breaking story about a company with accounting problems, you could write a piece educating readers on the best strategies for avoiding similar problems. Writing about such topics may require a little more work to quickly turn around a pitch and draft a post. But if a really exciting idea comes to you, invest the time and effort to create and share some content about it. You may find yourself communicating with potential clients you otherwise never would have encountered!
For more ideas and guidance on practical marketing techniques to implement at your firm, be sure to check out our Quick Start Kits and How-To Guides on this and many other marketing and branding topics at Hinge University.
Good luck on your guest blogging journey!
---
Lee W. Frederiksen, PhD, is Managing Partner at Hinge, the leading branding and marketing firm for the professional services. Hinge conducts groundbreaking research into high-growth firms and offers a complete suite of services for firms that want to become more visible and grow.
Dr. Frederiksen can be contacted at (703) 391-8870 or by e-mail to LFrederiksen@hingemarketing.com.
Related posts