Advanced Financial Analytics in Divorce Litigation
An Interview with Zain Kalson, founder of Etheia
As part of a broader dialogue around business valuations in the context of divorce, this article features an interview conducted by Andrew Thompson, Esq., with Zain Kalson, the founder of Etheia. The article discusses trends regarding how advanced data analytics are helping attorneys and experts sort through hidden assets, analyze expenses, and improve outcomes in marital property divisions.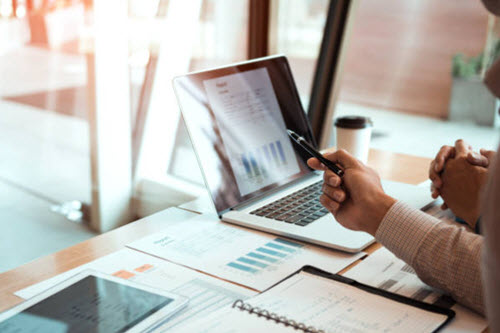 As part of a broader dialogue around business valuations in the context of divorce, I (Andrew or "Drew") recently had the opportunity to sit down with Zain Kalson ("Zain"), the founder of Etheia, and talk about how advanced data analytics are helping attorneys and experts sort through hidden assets, analyze expenses, and improve outcomes in marital property divisions.
The connections between these analytics and the valuation process are quite seamless, and there are many advantages to using them—both for attorneys and valuation experts.
Drew: Zain, tell me about the problem Etheia is addressing.
Zain: In a divorce, one or both spouses often provide incomplete information. That might mean poor-quality PDFs, out-of-order accounts, or missing pages. Drew, imagine walking in to work every day with a new stack of 800 unorganized papers on your desk. You're hired to give an expert opinion, but you're stuck having to piece together a discovery dump by hand.
Drew: Oh, I know; I've done it, both as an attorney and in forensic work.
Zain: Many forensic accountants and valuation experts were telling us how their practice is bogged down by low-quality, disordered, or modified discovery. So, we built a software tool as a discovery co-pilot that allows experts to concentrate on offering the best legal opinion possible, without the limitations of poor-quality data.
Drew: Some attorneys are very good at providing discovery responses that might technically comply with requests [and] yet still cover up what really should be provided. What indicators tell you when there's a problem with the information that's been shared in discovery?
Zain: Sure, that's really the core question, isn't it? The biggest indicator up front is poor data quality. Instead of sending records that came directly from the financial institution, opposing counsel might send a scanned PDF so you can't copy text, send information out-of-order to make it more difficult to reconcile, or in more extreme cases, even cover suspicious transactions in white out. Getting to a clean Excel file from there is really challenging unless you've got in-house staff or software to do the data entry. But even at that point, tens of thousands of transactions might need analysis. Without a closer look at the transactions, you could miss critical information like a transfer into an undisclosed bank account.
Drew: So, help our readers understand the mechanics of how this works?
Zain: Sure, let me borrow from some situations we've worked on. There have been circumstances where our software creatively pinpointed hidden assets. When an expert does this, they typically make an educated guess. In some cases, we can identify exactly what assets are missing from the overall picture. Say the opposing party is a realtor, and your client suspects there are undisclosed out-of-state real estate holdings. In cases like that, our software might flag an out-of-state utility bill or a large purchase at Home Depot. A person can find these transactions, but it takes looking at thousands upon thousands of purchases before you get there. We have algorithms incorporated into our software that flag suspicious activity so you can dig deeper into the transactions that are most likely to impact the case.
Drew: What are some of your best examples of success in finding hidden assets or misapplied expenses? How do you fill in the gaps in data?
Zain: First, we restructure data from .pdf to .xls. If there are missing dates or missing accounts where transfers are made to, the attorney can ask for more information from the other party.
Drew: How do you find missing account numbers?
Zain: The statements might reflect transaction transfers into account number 2947, but that account has been produced in discovery. We can do a lot once we have the data in a digital form like Excel. For example, we have developed software that checks that the transactions in a given period match up with the balance, and we can also cross-check against other data in the litigation. If there was a large transaction, say a $25,000 transfer on March 12, 2017, to account number 5012, we know that account 5012 should be next in a request for production.
Drew: Ok, that's quite powerful. I'll come back to why it's so beneficial to use the software instead of doing this manually, but how do you use this information once you have it?
Zain: Our goal is to help the attorney do what they need to make the best case for their client. It's very hard for the opposing party to argue you're on "a fishing expedition" when you can point to hard data. In addition to finding "needle in a haystack" transactions, there's a big value that comes in getting to fair discovery. A lot of times, discovery gets held up when opposing counsel refuses to disclose or insists you've made requests that are just too broad and need to be narrowed for trial.
Drew: Right, as an attorney, I'm very familiar with the discovery tactics that are played on the requesting side as well as the responders.
Zain: But going back to my previous example, when you have a transfer to an account number, you can hold opposing counsel accountable and should be able to compel disclosure. We see a lot of cases where software is powerful, not just for analyzing existing discovery but also for compelling new discovery.
Drew: Does this really come down to converting PDFs to Excel?
Zain: Yes and no. The main technical challenge is how you accomplish conversion to Excel. Most conversion software doesn't actually do this very well, but the true value add comes in how you go through, analyze, and re-categorize data.
Drew: You've given some good examples. But can you explain a little more how this works with Etheia?
Zain: There's so much value in having financial data in a structured, digital form. The reality is that most of the key insights are often locked up in a PDF and won't see the light of day. While there are a lot of technical challenges in accurately converting data, the possibilities for analysis are limitless once it's done. Imagine creating a demonstrative graph showing how the other side prepaid 12 months of business expenses to artificially lower the company's valuation. I anticipate a lot of innovation being brought about as experts get better data.
Drew: Interesting. I suspect the expert needs to bring the right skill set to the analysis as well. Thinking like the attorney, for example, is very important. When the expert can see beyond the objective data it starts with, and go into the implications of how the valuation is impacted, the attorney is in a much better position to succeed with the case, correct? So how is the analysis split between the attorney, the rest of the team, and Etheia?
Zain: The attorney is developing a legal opinion based on the data, so it can save them a great deal of time in going through the data. The expert works in tandem with Etheia to make it all come together. Our software never gets to the stage of giving legal advice or offering a legal opinion, it can't—that function is best served by attorneys with the assistance of an expert witnesses. We can, however,  streamline those time-consuming, tedious tasks where a forensic accountant is spending 20 hours of data entry (and billing at a lower rate for that) before they can even start forming a legal opinion.
Drew: Is it fair to say that the big value add to the attorney is the time savings you accomplish for him or her?
Zain: Yes, it really is, and there is so much that can get missed if you don't focus on what needs to be done. The work often doesn't get done and it ends up becoming a missing piece of a case that could save or gain a client considerably more in a settlement or judgment.
Drew: There might have been cases previously where an in-depth analysis wasn't performed because the client's attorney didn't have the resources or time in-house to look through every single transaction in the financial record. And I suspect in a lot of these scenarios, settlement value is being left on the table as one party successfully hides money or gets away with an over or underinflated valuation. How do you see this?
Zain: From a business valuation perspective, there's a lot that an operator can do to mislead professionals or manipulate the value of the business. Say you're working in a divorce and a valuation is planned for September 2023. A business owner might extend payment terms to their customers from 30 to 90 days in July or August to artificially reduce revenue for a few months. That might mean the monied spouse can buy out the other spouse at a lower cost. Other things we run into are comingling personal expenses on a business credit card, putting an affair on the payroll, or overpaying vendors. It's even possible to find a safety box by looking for the safety box deposit four years ago. All of these anomalies are challenging to find and demonstrate to the court without rich tools for analysis and visualization. We're striving to show how our software is becoming the best tool on the market for accomplishing its goals.
Drew: Zain, it's great to talk to you and learn more about the power and impact Etheia is having in divorce litigation. I'm looking forward to opportunities to work together and see where this goes.
A special thank you to Zain Kalson.
Note to readers: This article is not an endorsement by either NACVA, QuickRead, or any NACVA affiliated entity of Etheia software or services. Readers should conduct their own research before engaging or buying any services or technologies described in this article.
---
Andrew Thompson, Esq., is an advisor and attorney to small and medium-sized enterprises (SMEs) and their owners, attorneys, high net-worth families, investors, family-owned businesses, and startups, providing valuation, M&A services, board governance, fundraising, and development advisory services. He works as a legal consultant, expert witness, and deal intermediary and finds and raises capital for middle-market businesses in health care, manufacturing, business and construction services, technology, real estate investment, and development projects. He also provides family, probate, and civil litigation services, as well as business succession and exit planning, primarily to family business owners.
From preparation to valuation to documentation on exits, acquisitions, and capital infusions, Mr. Thompson serves middle market and main street business owners and investors, helping them achieve tremendous success in the marketplace. As an attorney, he worked for many years on business combinations, M&A transactions, trusts, estates, commercial real estate transactions, and all phases of complex civil litigation. 
Mt. Thompson may be contacted at (469) 987-1951 or by e-mail to andrew@landmarkadv.com.
Related posts