ASB Releases Second Exposure Draft for USPAP Changes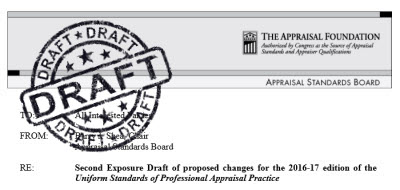 The Appraisal Standards Board (ASB) has released the Second Exposure Draft for proposed changes to the 2016-2017 Uniform Standards for Professional Appraisal Practice (USPAP). The scheduled revisions include:
Defining the term "report"
Edits to eliminate confusion regarding report drafts
Revisions to Standard 3 to enhance consistency with other standards and clarify dates identified and reported
Edits to eliminate confusion regarding confidentiality
Other edits to improve clarity and enforceability of USPAP
Comments are due by June 2, 2014. They can be submitted to ASBcomments@appraisalfoundation.org. You can read the full second exposure draft at the link below.
Related posts